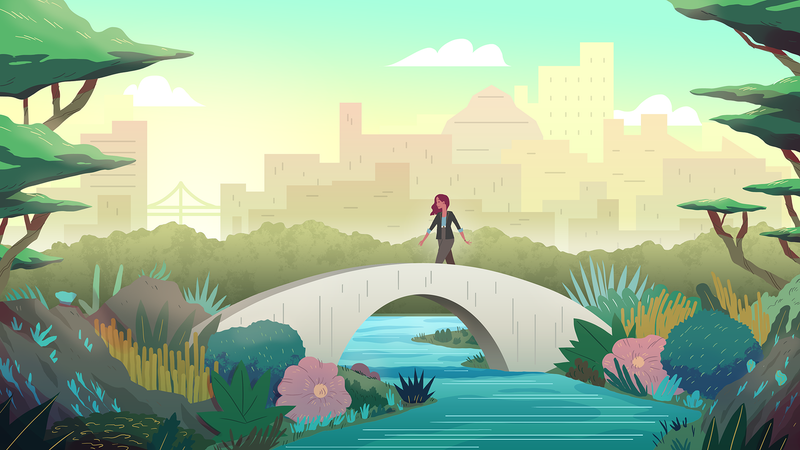 There's no surer way to feel like you've made it as a professional person than to travel alone on the company dime. This means that your boss trusts you to spread your wings, leave the realm of the office to handle important business elsewhere, and do it all with class. Plus, you get all the perks of traveling to a new city without having to worry about footing the bill.

But if you're traveling for business by yourself for the first time, it's important not to let all the trust and confidence your employer has in you go to your head, resulting in some sort of wild, booze-fueled, Kerouacian adventure gone off the rails.
Luckily, there is a middle way. You can get that work done, have those meetings, and still make sure you have time to enjoy the travel opportunities you've been given. With these tips, you'll be able to get back to the office in one piece and have the types of fun non-work stories you'll feel confident sharing at the water cooler, or whatever it is people stand around now.
Choose Your Own Adventure
Getting excited about a trip is half the fun. Just because you're traveling for work doesn't mean you need to infuse the planning with drudgery or dread. Wherever your interests lie and whatever the destination is, you'll be able to find something you'll want to check out while you're in town.
Every city has its own thing it's known for, whether it's a type of local cuisine or some weird statue in a park that everyone thinks is haunted or just a really nice park with a view. You don't want to come back from your trip and have to look down at your feet when your co-worker or client asks you if you experienced the main tourist attraction in X city, so try and carve out some time to experience it. Odds are, it's got hype for a reason.
Ask a Local

Looking for a place to hold a meeting with your client or interested in stopping by a cultural attraction on your afternoon off? When you're in a new city it's tempting to pull out your phone and start looking up online reviews of establishments instead of talking to a human. But often it's the locals that will know the best spots for the type of experience you're after.
When you check in at your hotel, take a minute to ask the front-desk receptionist if they have any recommendations. Hotel chains that are designed for efficient business travelers, like the Holiday Inn Express® brand, are able to offer you smart options that will suit your needs, and are often located strategically close to great shopping and restaurant options.
Or, if you're out to dinner and contemplating stopping by a bar for a nightcap, why not ask your waiter? Chances are he'll have a great recommendation, since he's already a part of the local restaurant scene, and maybe you'll get an inside scoop on a great happy-hour deal or a talented mixologist that the internet would be like ¯\_(ツ)_/¯ about.
Pound the Pavement

When you're not the one paying for cab fare, it's tempting just to jump in a car to get from place to place. But by spending time in the back of a taxi and looking at your phone, you'll miss out on opportunities to get to know the place you're in. That's right: It's time to bust out those sensible walking shoes you talked yourself into.
Often, the most interesting quirks of a city are the things you stumble upon while on foot. Whether you're traveling to different meeting locations or from a restaurant back to your hotel, take the opportunity to walk for a bit. Aside from the fresh air, and the opportunity to stretch your legs after a long flight or train ride, walking will give you more chances to come across a cozy-looking cafe where you can grab a coffee the next morning, or a cool-looking thrift shop where you can get a memorable souvenir from your travels. Besides, don't you sit all day long, anyway?
Sleep It Off
Sleeping in new places can be difficult, especially with the added stress of important meetings or presentations. Luckily, hotel beds are designed to help our bodies submit to deep slumber in record time. Their luxurious plushness and overabundance of pillows makes a traveler feel like true royalty, and makes falling asleep much easier and more enjoyable.
Even if your schedule is packed, taking the time to unwind will lead to a better night's sleep — and a more enjoyable time tomorrow. By keeping consistent with your typical pre-sleep rituals and making sure you block out plenty of time for racking out, you'll ensure that you will have enough energy to make the most of your trip.

Perks Run the World

It's not often in life that we don't have to worry about our expenses, and it's rare that we're treated with the level of accommodation that being a hotel guest offers. All in all, traveling for work is a great way to feel like boss — and you should embrace all the perks that come with it.
Your hotel probably (definitely) has more amenities than your apartment building back home, so really soak these up while you can. This could mean hitting the gym in the morning to ensure yourself a little "me time" before heading to work, or stopping by the lobby for a free hot breakfast in the morning. You know how there's no such thing as a free lunch? Well breakfast says THINK AGAIN.
If you're used to having a roommate, make sure to appropriately revel in the fact that having your own hotel room means living life without shame. You can rock out to your favorite embarrassing music without worry, you don't have to argue about what to watch on TV, and you have full license to walk around naked if you really want. (Just close the curtains, yeah?)
So there you go, great and trusted employee. Now you can get out there and make the most of your first solo business trip, delicately walking the line between profesh and fun person.

---
Traveling for work all by your lonesome is scary enough without making it even harder by staying in a hotel that doesn't have your back. Thankfully, Holiday Inn Express hotels provide the ultimate Stay Smart®experience. With comfortable beds, powerful showers, in-room Keurig® brewers and a full, free breakfast, you'll be ready for action as soon as you hit the lobby.

Catherine LeClair is a Senior Strategist for Studio@Gawker and a freelance writer. She lives in Brooklyn.
This post is a sponsored collaboration between Holiday Inn Express and Studio@Gawker.